Batteau Festival
Third Wednesday of June. Celebrate our past. The James River and Kanawah Canal were main thoroughfares of commerce. The Batteaus were used to move merchandise from inland Virginia to the port at Richmond.
Bruce Park
Enjoy the serenity and peacefulness of this beautiful park downtown Scottsville.
Butterfly Garden
A wonderful menigere of flowers and plants that attract the beautiful butterfly.
Canal Basin Square
Outdoor Transportation History park depicting the rich history of batteaux and packet boat travel which occurred in the heyday of America's canals. The park is located at the original site of the James River and Kanawha Canal Basin on Main Street across from the Scottsville Museum.
Public Handicapped Accessible Restrooms
Civil War Trails and Confederate War Memorial Monument & Cemetery
Civil War Trails historical marker at Canal Basin Square on Main Street. Monument and cemetery at Hardware Street (Rt. 795). Erected by the United Daughters of the Confederacy in 1914. Bronze and granite monument at this site with names, units, and home states of the forty soldiers buried there. Limited Parking
Community Day
Second Saturday of September. Scottsville Community Day is a joint effort of the Scottsville Community Chamber of Commerce and The Scottsville Center for Arts and Nature.
The mission is to celebrate our community and bring valuable information of services, community organizations and local businesses to our citizens.
Farmer's Market
Saturday mornings at The Pavilion Downtown Scottsville.
Fresh produce, arts, crafts, baked goods, entertainment and more! Fun for the whole family.
Saturday mornings – May thru October
The Pavilion in downtown Scottsville – 8 a.m. til Noon
For more information, speak with the market manager, Shannon Bostic at shannon.scottsvillemarket@gmail.com  OR  434-286-9267
Festival of Lights
Early December. Festival of Lights brings the magic of Christmas to children and adults alike. A room full of colorful and festive Christmas Trees. Free admittance.
Festival of Lights is brought to you by the Scottsville Community Chamber of Commerce.
Historic Markers, Homes and Buildings
Scottsville is full of history! Feel free to walk our pedestrian friendly streets to learn what has happened in our town over the years. Many historic markers tell you about the floods and other significant historical events. Journey through time when you stroll through our residential areas and see the wonderful old homes.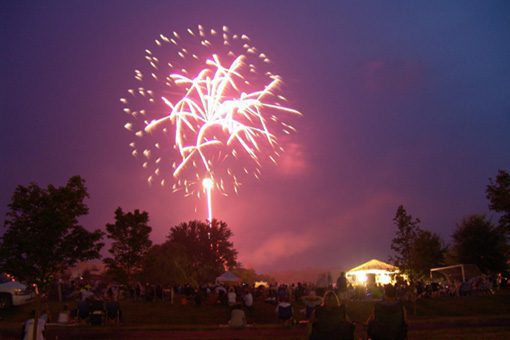 Independence Day – July 4th Celebrations
Scottsville is renown for our Independence Day Parade and Fireworks presented by the Scottsville Volunteer Fire Department. Other events fill out this 'Old-Fashioned' celebration of our nation's independence.
James River
The Mighty James River. Enjoy a leisurly tube or canoe ride down the river, fish your limit in one of the best fishing rivers on the East Coast, or walk the Scottsville Levee Walk to just enjoy its beauty. Many options for guided fishing tours and river trips available from our local river outfitters.
Levee Walk
Take a leisurely walk on top of the levee alongside the CSX rail. View the river and see the town of Scottsville from a different perspective.
Pine Knot
Theodore and Edith Roosevelt's family retreat.
Operated by the Theodore Roosevelt Association.
Information: (434) 286-2722
Toiter Creek Park
Albemarle County Park in Scottsville. Walking trails, fishing and beautiful nature to behold.
Van Clief Nature Area and Scottsville Lake
The Van Clief Nature Area is a 63-acre park owned by the Town of Scottsville and located just east of Valley Street downtown. The centerpiece of the nature area is Scottsville Lake, where fishing  is now open to the public.
Hiking trails, a dock and other amenities are being developed now with the help of townspeople and volunteers .
Please join the effort or share any comments or suggestions by contacting Councilman Dan Gritsko.  Or contact the town office with any questions at 286-9267 or info@scottsville.org.
VFW Memorial
A dedication to all those who have served our country. Serene, beautiful setting in which to contemplate those who gave the ultimate sacrifice.
Walton's Mountain Museum
Schuyler,VA. Open daily from 10:00 a.m. to 4:00 p.m., the first Saturday in March through the last Sunday in November except Easter, Thanksgiving, and the second Saturday in October. Admission.